Exploring Psychology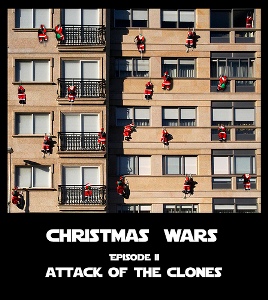 (Photo Credit:
Manuel Bóo
)
Tis the season to be merry, so for a less serious look at the world of psychology I thought you might want to take a look at an article published in psychology today. Entitled "A White-Knuckle Christmas: This holiday season, sugarplums won't be the only things dancing in our heads", author Bruce Kluger identifies a range of holiday specific psychological disorders.
Among the disorders are Ho-Ho-Phobia (HHP) which is described as follows:
"A profound fear of rotund, bearded men in red suits and black boots. HHP outbreaks usually surface in late November, when sufferers begin to report frequent sightings of their most feared apparition on street corners, in shop windows and on TV commercials for local car dealerships. Often referring to these men as Santa Claus, St. Nick or "chortling fatboy," the afflicted appear most unsettled by what they call "department store Santas," whom they insist "are constantly surrounded by cranky little men in green outfits who keep glancing at their watches."
You can read the article in full by
Clicking Here
Have A Stress Free Holiday Season Everybody!
Exploring Psychology: The 12 Neuroses of Christmas.