Exploring Psychology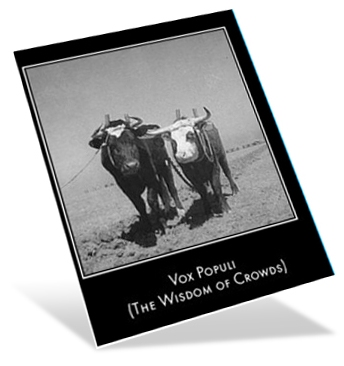 The latest addition to the psychology journal articles collection was inspired by the exploits of the acclaimed psychological illusionist Derren Brown, who created a real stir last week when he "predicted" the outcome of Britain's National Lottery.
See following link for full details, including a video of the "lottery prediction" live.
Derren Brown

Derren Brown put forward the "Wisdom of Crowds" as a possible explantion of how he was able to achieve this apparently incredible feat; and in doing so, he drew explicitly on Vox Populi by Francis Galton.

You can read and download this classic article for free via the following link.

Vox Populi (The Wisdom of Crowds) by Francis Galton

Click Here To Visit The Main Psychology Journal Articles Page.


---
Please share this Psychology Blog Post with others by adding it to your social bookmarks.
---




www.all-about-psychology.com
A Free & Comprehensive Guide to The World of Psychology
---
Vox Populi (The Wisdom of Crowds) by Francis Galton