Exploring Psychology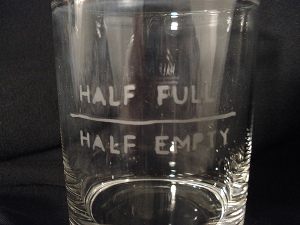 (Photo Credit:
bibliogrrl
)
When I began my psychology degree one of the first things I learned was Sigmund Freud's quote about transforming hysterical misery into common unhappiness, and I vividly remember thinking at the time that studying psychology wasn't exactly going to be a barrel of laughs.
Indeed, one of the criticisms of psychology as a discipline is that it fixated on the study of negative emotion and behaviour etc and effectively ignored the positive aspects of human experience. In recent years, however, positive psychology has established itself as an area of study in its own right.

One of the most influential practitioners within the field of positive psychology is Dr. Martin Seligman. Dr. Seligman is the director of the University of Pennsylvania positive psychology center.
The center focuses on the empirical study of positive emotions, strengths-based character, and healthy institutions. Research conducted by Dr Seligman and his colleagues have demonstrated that it's possible to be happier, feel more satisfied, be more engaged with life, find more meaning, have higher hopes, and even laugh and smile more, regardless of individual circumstances.
---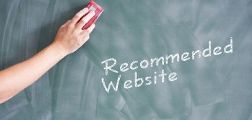 Authentic Happiness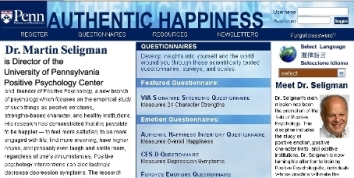 The official website for the University of Pennsylvania positive psychology center. Lots of excellent resources relating to positive psychology, all of which can be accessed for free.
Click Here
to visit the website.
---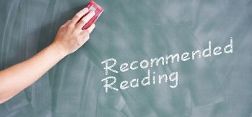 A Primer in Positive Psychology by Christopher Peterson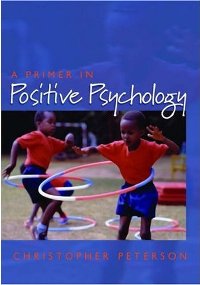 Book Description
Positive psychology is the scientific study of what goes right in life, from birth to death and at all stops in between. It is a newly-christened approach within psychology that takes seriously the examination of that which makes life most worth living. Everyone's life has peaks and valleys, and positive psychology does not deny the valleys. Its signature premise is more nuanced, but nonetheless important: what is good about life is as genuine as what is bad and, therefore, deserves equal attention from psychologists.
Positive psychology as an explicit perspective has existed only since 1998, but enough relevant theory and research now exist to fill a textbook suitable for a semester-long college course. A Primer in Positive Psychology is thoroughly grounded in scientific research and covers major topics of concern to the field: positive experiences such as pleasure and flow; positive traits such as character strengths, values, and talents; and the social institutions that enable these subjects as well as what recent research might contribute to this knowledge.
Every chapter contains exercises that illustrate positive psychology, a glossary, suggestions of articles and books for further reading, and lists of films, websites, and popular songs that embody chapter themes. A comprehensive overview of positive psychology by one of the acknowledged leaders in the field, this textbook provides students with a thorough introduction to an important area of psychology. See following link for full details.
A Primer in Positive Psychology
Visitors From The UK Click Here
---
The Ultimate "The Glass is Half Full" SongUntil the next exploring psychology blog post, Keep Smiling
(Photo Credit:
Piratex
)
Exploring Psychology