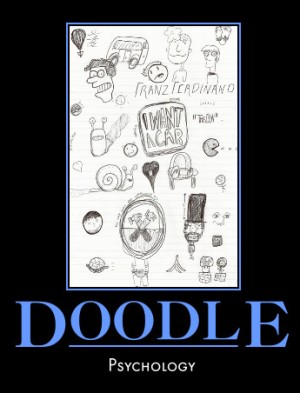 As a regular doodler myself, I was intrigued to read an article on the subject by science correspondent Ian Sample in the Guardian newspaper. It would be appear that far from being a futile exercise, doodling can in fact aid attention and recall. This vindication for all us 'doodlers' out there relates to a research paper that has just been published in the journal of Applied Cognitive Psychology.
The paper entitled "What does doodling do?" by Dr Jackie Andrade, Professor in Psychology at the University of Plymouth (UK) found that participants who were randomally assigned to the doodling condition when monitoring a mock telephone message, performed better and recalled 29% more information on a surprise memory test, compared to participants in the control group.
In discussing the findings in the Guardian article, Dr Andrade is quoted as saying "It's not so much that doodling is good for your concentration, but that daydreaming is bad. If you are thinking about where you are going to go on holiday, that is probably going to be more cognitively demanding than a doodle."
More Information
You can read the Guardian article in full by
Clicking Here
You can read the study's abstract and/or access a full text PDF file of Dr Andrade's research by
Clicking Here
Creative Doodling
---
Please share this Psychology Blog Post with others by adding it to your social bookmarks.
---




www.all-about-psychology.com
A Free & Comprehensive Guide to The World of Psychology
---
The Psychology of Doodling