Exploring Psychology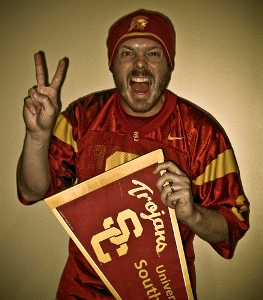 Photo Credit: Jeff the Trojan
Just read a really interesting study that was published in the Journal of Personality and Social Psychology back in 1976. The study by Robert B. Cialdini et al, examined the BIRG effect i.e., the tendency to "bask in reflected glory" (BIRG) by publicly announcing one's associations with successful others. In the field experiments conducted, the research team found that the BIRG effect occurred even though the person striving to bask in the glory of a successful source was not involved in the cause of the source's success.
Experiment 1 demonstrated the BIRG phenomenon by showing a greater tendency for university students to wear school identifying apparel after their school's football team had been victorious than non victorious and experiments 2 and 3 replicated the BIRG effect by showing that students used the pronoun "we" more when describing a victory than a non victory of their school's football team.
The BIRG effect was also observed by Professor Albert Harrison from the University of California when reviewing thousands of biographical entries in Who's Who. According to the biographical analysis many more people were born on Independence day, Christmas day and New Year's day than the days around these high profile dates. This statistical anomoly was apparently the result of some less than honest reporting by the great and good (including religious leaders!) who wanted to be associated with a nationally important day.
Click Here
to read the 1976 BIRG effect article published in the Journal of Personality and Social Psychology.
Reflected Glory
Short film about two bands that impersonate the Beatles.
---
Please share this Psychology Blog Post with others by adding it to your social bookmarks.
---




www.all-about-psychology.com
A Free & Comprehensive Guide to The World of Psychology
---
Basking in Reflected Glory: The BIRG Effect